Religious Education up to 12 grade
Is a faith formation program for all children and young adults in grades 1-12. Teachers and teacher's assistants are needed in English and Bilingual (English/Spanish).
Religious Instruction Grades 1-12
Monday: First Communion Year 1 - 4:45 pm to 6:15 pm
Tuesday: First Communion Year 2 - 4:45 pm to 6:15 pm
Tuesday: Confirmation Year 1 & 2 & Post Communion Gr. 3-5 - 5:00 pm to 6:15 pm
All volunteers who work around children are required to have a background check and attend the program, "VIRTUS, Protecting God's Children".
Religious Education for Adults (RCIA)
Is a sacramental process through which an individual discerns and ritualizes the stages of conversion, leading to their sacrament initiation of Baptism, Confirmation and Eucharist celebrated at the Easer Vigil.
Anyone wishing to be a Catholic or Catholics who have not made their First Communion or have not received the sacrament of Confirmation need to make an appoint with the priest. Catholics who would like to share their faith with RCIA candidates need to contact the priest.
Saturday: English Class - TBA
Sunday: Spanish Class - TBA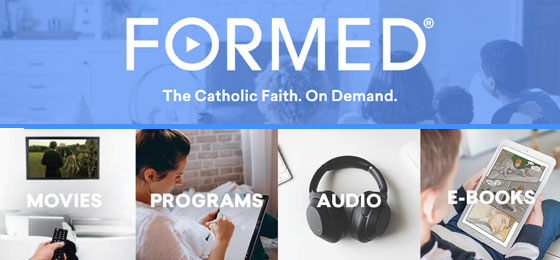 The Catholic Faith on Demand.
Get thousands of enriching Catholic movies, programs, audio,and books instantly on FORMED when you sign up with your parish.
To sign up for free: