This Weekend, Our Second Collection will help the Seminary Burse Fund of the Archdiocese of Miami
Wednesday, August 3, 2022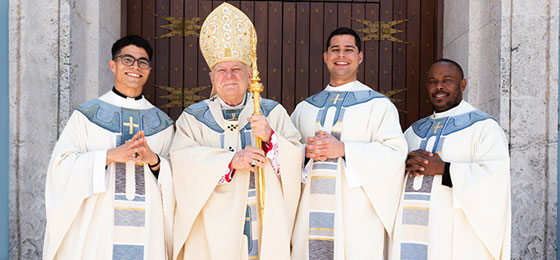 The education and holistic formation of candidates to the priesthood provided by seminaries is one of the most important works of the Church. Those who aspire to serve as priests must be well educated in Catholic theology, have established a mature spiritual life and demonstrated a healthy emotional psychological formation help and individual to discern the Lord's call in light of the requirements the Church sets for its sacred ministers.
Your contribution to the annual Seminary Burse Fund collection helps to ensure that the seminarians o today receive the best formation possible so that they faithfully serve the Church as priests in the future. Thank you for your generosity!
Este fin de semana nuestra Segunda Colecta ayudará al Seminary Burse Fund de la Arquidiócesis de Miami
La educación y la formación holística provista por los seminarios para el sacerdocio es uno de los trabajos más importantes de la Iglesia. Aquellos que aspiran servir como sacerdotes deben ser educados en teología Católica, haber establecido una madurez en su vida espiritual y demostrado una sana formación emocional y sicológica para discernir el llamado del Señor en la luz de los requerimientos de la Iglesia para estos sagrados sacramentos.
Su Contribución ayudará para que los seminaristas tengan la mejor formación posible para que fielmente sirvan a la Iglesia en un futuro. ¡Gracias por su colaboración!