2023 Archbishop's Charity and Development Drive
Wednesday, May 18, 2022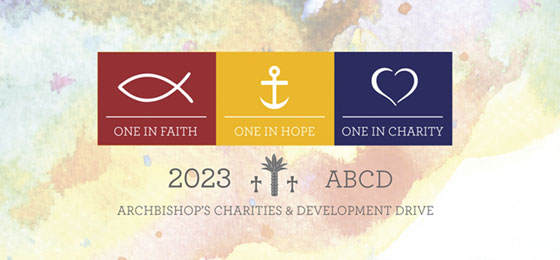 ABCD - Legacy of Love
For the past 65 years, the Archdiocese of Miami has been bringing the love of Christ to people - no matter who they are or where they live. That has been made possible, in part, because of people like you. Through the Archbishop's Charities and Development Drive, the ABCD, you help the church bring the gift of God's love to those most in need- above and beyond what happens in your parish. The good works that ABCD makes possible are a testimony to our faith, our love, and our compassion.
What will your legacy be? What are you doing now that will be remembered? What impact are you making on others? Those who leave a lasting legacy are those that follow the two most important commandments: Love God with all your heart and love others as yourself. Make a gift of love and hope to the ABCD today.
Our Parish Goal for 2023 is $48,547.00.
Campaña 2023 de Caridades Y Desarrollo del Arzobispo
ABCD - Legado de amor
Durante los últimos 65 años, la Arquidiócesis de Miami ha estado llevando el amor de Cristo a las personas, sin importar quiénes son o dónde viven. Eso ha sido posible, en parte, gracias a personas como usted. A través de la Campaña de Caridades y Desarrollo del Arzobispo, el ABCD, usted ayuda a la iglesia a llevar el don del amor de Dios a los más necesitados, más allá de lo que sucede en su parroquia. Las buenas obras que ABCD hace posible son un testimonio de nuestra fe, nuestro amor y nuestra compasión.
¿Cuál será tu legado? ¿Qué estás haciendo ahora que será recordado? ¿Qué impacto estás teniendo en los demás? Aquellos que dejan un legado duradero son aquellos que siguen los dos mandamientos más importantes: Ama a Dios con todo tu corazón y ama a os demás como a ti mismo. Haz un regalo de amor y esperanza al ABCD hoy.
La Meta de nuestra Parroquia para el 2023 és $48,547.00.