Seeing the Light
Wednesday, March 15, 2023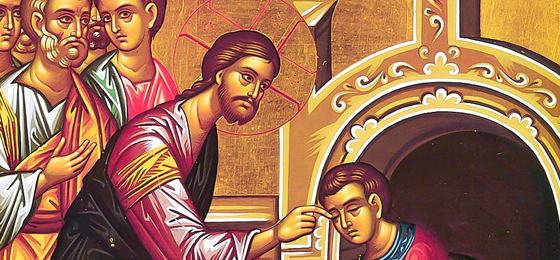 Our Lenten journey continues this Sunday as we hear of Jesus healing a blind man in the Gospel of John. Jesus proclaims himself the light of the world, a light that overcomes darkness and enables a new capacity to see. The man, blind from birth, was able to begin his path to sight by first acknowledging his blindness. We are reminded of God's ongoing invitation to us to journey from blindness to sight. We begin by acknowledging our own capacity for "blind spots," and so open ourselves to uncomfortable truths and to God's healing.
We are invited to see beyond appearances, as the reading from Samuel indicates, and to look into the heart of things. We are invited to "live as children of light" as the letter to the Ephesians teaches. Like the man healed from blindness, we may gradually learn to see fully and to follow Jesus.
Ver la Luz
Nuestro viaje cuaresmal continúa este domingo cuando escuchamos a Jesús curar a un ciego en el Evangelio de Juan. Jesús se proclama luz del mundo, una luz que vence las tinieblas y permite una nueva capacidad de ver. El hombre, ciego de nacimiento, pudo iniciar su camino hacia la vista reconociendo primero su ceguera. Se nos recuerda que Dios nos invita continuamente a pasar de la ceguera a la vista. Empezamos por reconocer nuestra propia capacidad de "puntos ciegos", y así nos abrimos a verdades ncómodas y a la curación de Dios.
Se nos invita a ver más allá de las apariencias, como indica la lectura de Samuel, y a mirar en el corazón de las cosas. Se nos invita a "vivir como hijos de la luz", como enseña la carta a los Efesios. Como el hombre curado de la ceguera, podemos aprender gradualmente a ver plenamente y a seguir a Jesús.