Becoming a godparent/sponsor in the Catholic Church
Thursday, April 8, 2021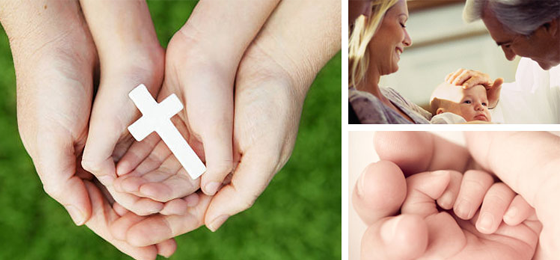 Being chosen as a godparent for baptism is an honor, for the godparent traditionally becomes a spiritual companion to the one being baptized in a journey of faith.
Please decide if your faith life makes you ready to publicly pledge that you have been leading a life in harmony with the Catholic tradition. Godparents should be both role models and resource persons, individuals who are at ease with the practice of their faith and would normally be considered as "active Catholics." They should be people who are comfortable with answering questions about their personal relationship with God as experienced in the Catholic Communion, even if they are unsure of all the technicalities. Godparents should be people who are interested in and will continue to spiritually support the "godchild" in the years ahead.
El ser escogido como padrino de bautismo es un honor; tradicionalmente el padrino se convierte en la compañía espiritual de quien ha sido bautizado en el camino de la fe. Por favor decida si su vida de fe lo hace estar preparado para que prometa públicamente que ha estado llevando una vida en armonía con la tradición Católica.
Los Padrinos deben cumplir el rol los modelos y personas reservadas que están cómodos con la practica de su fe y normalmente serian considerados como "Católicos activos." Ellos deben ser personas que se sientan cómodos con las preguntas acerca de sus relaciones personales con Dios como las experimentadas en la Comunión Católica, aunque no estén seguros de todos los detalles.