Grace and Eternal Life
Wednesday, May 31, 2023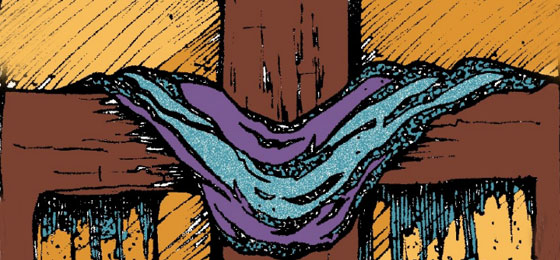 Moses is a man after our own hearts, for haven't we all dealt with more than our share of stiff-necked people? Indeed, haven't we all gotten a little stiff-necked ourselves at times? Complaining . . . impatient . . . Quick to anger. How lucky for Moses-how lucky for all of us-that God is exactly the opposite! And we don't even have to guess about it. The Lord tells us so directly.
Accordingly, Moses does what we all need to do. Even with the tablets in hand, he bows down and asks for God's forgiveness and grace. Encouraging us to live together in peace-and in God's favor-the Apostle Paul knows all about this grace, joyfully invoking Christ's grace on us along with God's love and the Holy Spirit's. "Rejoice," he says. And when it comes to rejoicing, John offers us the gladdest words of all: the assurance of eternal life through Jesus.
Feast of Faith
Liturgy and the Holy Trinity
The Trinity is the central mystery of our faith. We believe that God is one, yet three: total unity and rich diversity. God is not a monolith, but a dynamic community of persons, a perfect, loving harmony of three. And the liturgy is the work of the Trinity. We begin all our liturgical celebrations with the sign of the cross, a reminder of our Trinitarian baptism, and the simplest of all professions of our faith. We believe that God is Father, Son, and Holy Spirit, and we gather in the name of this triune God.
Throughout the Mass, we address our prayers to God the Father, through Christ our Lord, in the Spirit's power. And the Father hears our prayer, transforming bread and wine into the Body and Blood of his Son by the Holy Spirit. The Church is "the sacrament of trinitarian communion" (Sacramentum Caritatis, 16). It is the Trinity who holds us together as well. In the words of Saint Cyprian, we are "a people made one by the unity of the Father, the Son, and the Holy Spirit" (quoted in Sacramentum Caritatis, 16).
Gracia y Vida Eterna
Moisés es un hombre como nosotros, ¿acaso no hemos tratado también con cabezas duras? De hecho, ¿acaso no hemos sido nosotros mismos los cabezas duras? Quejumbrosos. . . impacientes . . . rápidos para enojarnos. ¡Qué suerte la de Moisés y qué suerte la nuestra que Dios es precisamente lo opuesto! Y ni siquiera tenemos que adivinarlo. El Señor nos lo dice directamente. Y en concordancia, Moisés hace lo que todos necesitamos hacer.
Pese a tener las tablas en las manos, se postra y pide el perdón y la gracia de Dios. Alentándonos a vivir juntos en paz y con el favor de Dios, el apóstol Pablo sabe de esta gracia, e invoca con alegría la gracia del amor de Dios y del Espíritu Santo sobre nosotros. "Estén alegres", dice. Y cuando se tratade alegrarnos, Juan nos ofrece las palabras más regocijantes: la seguridad de la vida eterna en Jesús.
Fiesta de la Fe
Liturgia y la Santísima Trinidad
La Trinidad es el misterio central de nuestra fe. Creemos que Dios es uno, pero tres: unidad total y rica diversidad. Dios no es un monolito, sino una comunidad dinámica de personas, una armonía perfecta y amorosa de tres. Y la liturgia es obra de la Trinidad. Comenzamos todas nuestras celebraciones litúrgicas con la señal de la cruz, un recordatorio de nuestro bautismo trinitario y la más simple de todas las profesiones de nuestra fe.
Creemos que Dios es Padre, Hijo y Espíritu Santo, y nos reunimos en el nombre de este Dios trino. A lo largo de la Misa, dirigimos nuestras oraciones a Dios Padre, por Cristo nuestro Señor, en el poder del Espíritu. Y el Padre escucha nuestra oración, transformando el pan y el vino en el Cuerpo y la Sangre de su Hijo por obra del Espíritu Santo. La Iglesia es "el sacramento de la comunión trinitaria" (Sacramentum Caritatis, 16). Es la Trinidad quien nos mantiene unidos también. En palabras de San Cipriano, somos "un pueblo hecho uno por la unidad del Padre, del Hijo y del Espíritu Santo" (citado en Sacramentum Caritatis, 16).